Football and Sports News
Dutch Grand Prix, qualifying, times, results, Max Verstappen, pole, Daniel Ricciardo, Sergio Perez crash
Max Verstappen claimed a late pole position for Red Bull in a dramatic final lap at his home Grand Prix of the Netherlands on Saturday, edging out Ferrari's Charles Leclerc by just two hundredths of a second.
Cheered on by a raucous home crowd at the Zandvoort seaside circuit, the 24-year-old Dutchman set a fast 1:10.342 lap to finish on time and secure his second consecutive pole on home soil.
Watch every practice, qualifying and race of the FORMULA 1 HEINEKEN DUTCH GRAND PRIX 2022™ live on Kayo. New to Kayo? Start your free trial now >
It was the fourth pole of the season and the 17th of his career for Red Bull, the reigning world champion and runaway series leader. He was fastest in qualifying last weekend in Belgium but failed to take pole due to a grid penalty.
Verstappen said of the pole "unbelievable".
"Especially after yesterday. We had a difficult day but we did a good job with the team to get around."Today we had a fast race car but it was very close. We changed a lot, because yesterday it was a bit rushed in FP2 to connect the car.
Leclerc finished second in 1:10.363 ahead of Ferrari team-mate Carlos Sainz, seven-time champion Lewis Hamilton of Mercedes and Sergio Perez in the second Red Bull on the final lap.
In the second Mercedes, George Russell failed to run in Q3 due to mechanical problems ahead of McLaren's Lando Norris, Haas' Mick Schumacher, Alfa Tauri's Yuki Shunoda and Aston Martin's Lance Stroll.
But back to Verstappen, Red Bull team principal Christian Horner was full of praise for the driver who delivered under immense pressure.
"He had a difficult day yesterday, yesterday we were behind so it was important to recover," said Horner.
"What impressed me most about that Quali was the lap on the Q2's slick tires. That saved him for tomorrow's tire set.
"Charles put a hell of a mark on the first run in Q3 and he went with a big push and delivered a lap and he did it. He did everything in sector 2. A very perfect lap – a small margin, but important for tomorrow's race.
But it was bad news for Daniel Ricciardo, who was in Q1 and starts 18th on the grid.
"What a pathetic performance from Daniel Ricciardo we must say," said Martin Brundle in his comments.
Jenson Button added: "This is really painful.
"The biggest disappointment is Ricciardo, I thought he was in for a great race this weekend."
The event was attended by a crowd of 105,000 in 24 degree temperatures and the track at 39 and the boisterous atmosphere created by the Orange Army.
On the compact circuit in the sand dunes of the North Sea, the Haas drivers were first out and everyone else was on the slow side as the time fell in 'Track Progress'.
Verstappen showed pace ahead of a refreshed Hamilton and Sundoda in third place ahead of Q1, as excited spectators were again warned not to bring fire or throw themselves onto the track.
After a busy opening session, Alfa Romeo's Valtteri Bottas, Haas' Kevin Magnussen, McLaren's Ricciardo, four-time champion Aston Martin's Sebastian Vettel and Williams' Nicolas Latifi came out on top.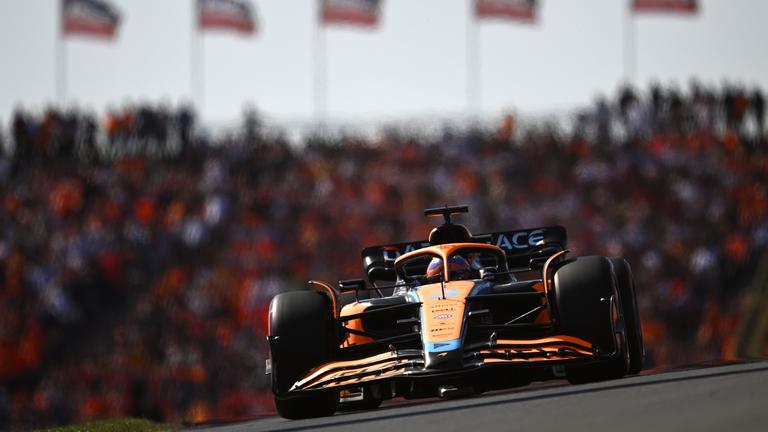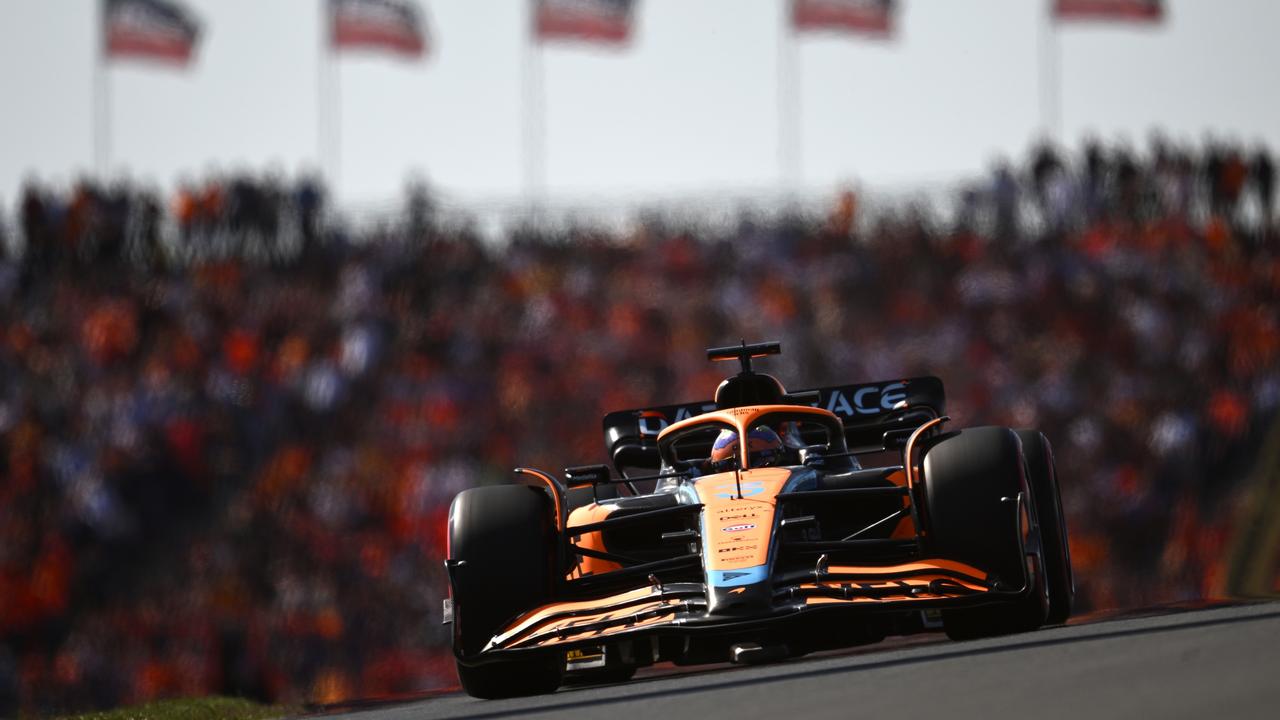 The fire warnings were mostly heeded, but Q2 was delayed by a red flag when flames were thrown across the paper, damaging the lap of Williams' Alex Albo, the only man on track.
The International Motor Federation (FIA) has announced that the person responsible for the fire has been identified and removed from the circuit.
After six minutes, the action resumed and the crowd, almost all dressed in orange, saw Verstappen finish 1:10.927, Perez taking second by three tenths.
Buoyed by the car's handling and capability, Hamilton took second in a 1:11.075, just 0.148 off the Dutchman's pace, before Russell was overtaken by Stroll for fourth.
It was clear that the evolution of the circuit would favor the back runners and in the final minute Leclerc was second, just 0.061 off the pace of Verstappen, before his Ferrari team-mate Sainz took first in 1:10.814.
Russell also improved of late to take second behind Sainz, while Norris, Perez, Stroll, Schumacher and Tunoda won the top ten in the Alfa Tauri at the expense of Pierre Gasly, the two Alpines, Alfa Romeo's Zhu Guanyu and Albon.
Schumacher's place in Q3 for the fourth time this season was a timely boost as talks about his future intensified this weekend.
As expected, the Red Bulls went first for Q3 and Verstappen, pushing hard, set the marker at 1:10.515. Perez finished second by half a second before being overtaken by Hamilton.
Leclerc then dominated with a 1:10.456, fastest lap to secure provisional pole, but only 0.2 seconds separated the top three teams.
The Monegasque went out first – as the blast went down at turn one – and managed to improve his time by a tenth, but Verstappen also improved, clocking a 1:10.342 to take pole position by 0.021.
It was the smallest margin of the season to win the pole.
Sainz improved and took third from Hamilton, but Verstappen won the upper middle sector as team-mate Perez crashed in pursuit.