Football and Sports News
Gary Neville clashes with Jamie Redknapp, full transcript, Manchester United, result, latest, updates
Manchester United legend Gary Neville had a heated exchange with Jamie Redknapp following the Red Devils' 4-0 defeat at Brentford.
Erik ten Hag's side conceded four goals in the first half to leave United bottom of the Premier League in an embarrassing moment for the club.
Watch the world's best soccer players every week on beIN SPORTS in Kayo. Live coverage from Bundesliga, Ligue 1, Serie A, Carabao Cup, EFL and SPFL. New to Kayo? Start your free trial now >
Neville took aim again at the Glazers, the family who own United, and asked them to face the music in England.
However, Redknapp believed Neville could not get away from the offensive performance of the players themselves.
A spicy clash ensued between the two as United once again struggled to find answers.
Read the full description of the exchange below!
Man U HOWLERS give Brentford goals! | 01:17
Additional coverage
Star's extraordinary confession, 'embarrassing' flaw exposed as 'toxic' United hit 'new low'
PL PACK: UTD 86-YEAR LOW IN HORROR 4-0 FLOP; Arsenal recruit's best home debut
'I've had enough': Socceroos boss inches from despair during brutal World Cup journey
Speaking on Sky Sports, Neville said players from rival clubs did not want to come to Manchester United after watching the first half.
"Right now, it's really frustrating. "No leadership, no voice, you can't blame the player or the manager, you have to look up and look to the top," Neville said.
"This week, those players, the coach, the sports department, the new CO – they're all going to be peppered. But there are families in America who let their employees take all the success away from them – and that's unforgivable.
"Joel Glaser needs to get on a plane… go to Manchester and tell everyone what the hell this plan is doing to the football club to get the issues away from the club. What is he doing?"
Those comments sparked a heated argument between Reknap and Neville.
Redknapp: I understand, but you can't…
Neville… No, you didn't meet the players before the break, Jamie.
JR: You can't blame the owners when the players perform like this.
GN: Jamie, I can't find you… Jamie…
JR: When you're a player, you think to yourself…
The QPR keeper scored the last goal! | 00:37
GN: Jamie…
JR: No, let me ask you a question…
GN: … you don't have players before the break.
JR: When you're a player… we didn't win the league at Liverpool for 30 years, right – just look at me when I'm talking to you! – We haven't won the league for 30 years, have we?
GN: Jamie, you don't have the players before the break.
JR: … So we passed. I don't have to go to the players, but they have to take responsibility. When you're a gamer…
GN: How many times…
JR: … 'Oh I wonder what Joel Glazer is doing tomorrow?' …
GN: How long will we sit here…
JR: … I don't really care. When you play, you have to do what's best for the team.
GMN: How many times do we sit here and say those players lack leadership, personality?
JR: How often do they have to remove the owners?
GN: But they confirmed…
JR: They spent £1 billion on the team!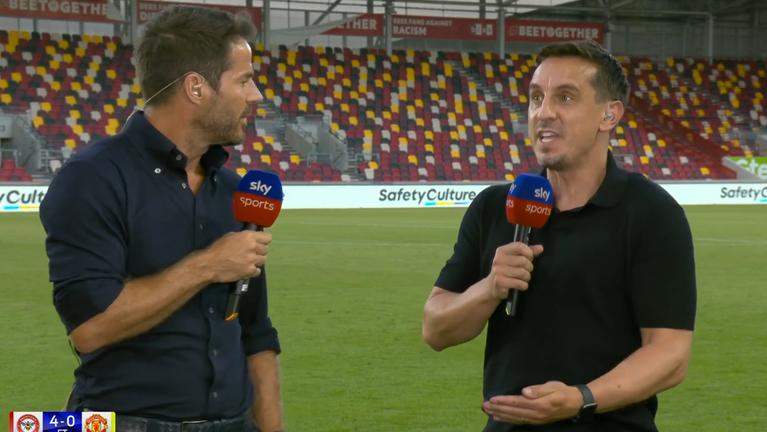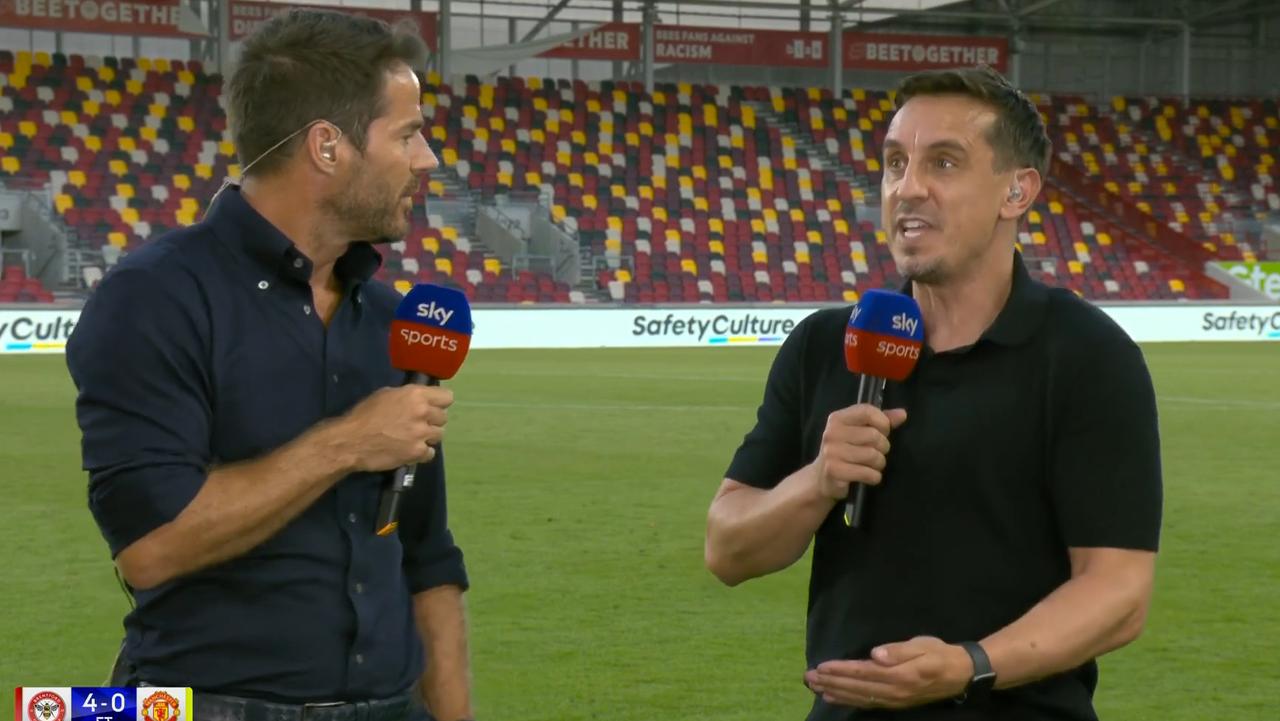 GN: They have confirmed that they cannot handle these players, so they must have a good transfer market. They didn't have a good transfer market.
JR: It was Ed Woodward's fault, he's gone now. Whose fault is it now?
G.N. If a good business fails and doesn't work, it's the owners of that business – it's really that simple. It is falling drastically.
JRL will continue to spend money on players, Gary. You can't keep blaming…
GN: Jamie… Jamie…
JR: You can't go on saying it's about… and you think everything's going to be fine with this game?
GN: They took 24 million quid from the club two months ago. Now we have a rundown, decaying stadium that was the best stadium in the world 15 or 20 years ago. You've got a clueless football project, you've got bankers to steer clear of football decisions. They have not appointed a sports director. We can look at the players all you like, but there are a lot of big things that need to be put right first, they need to be seen and basically face the music. Now is the time. You can't go on hiding in Tampa and expecting nothing to come back to you.
JR: "You can't keep saying it's about the owners, but it has nothing to do with the players.
GN: "I've heard Jamie blame Daniel Levy for being down for so long at Tottenham because they've been undefeated for 20 or 30 years. That is a fact. So my point is that they have failed for ten years at Man United. The club is rotting."
JR: "But he (Levy) got it right – you know why. He did what he had to do and brought Antonio Conte in, but you didn't want to touch him. He would come here and make those players better than they were.
GN: "He (Levy) built an incredible stadium, got the best training ground in the country, appointed a fantastic sporting director…"
JR: "So much went wrong…"
GN: "Wait a minute, he's built an incredible stadium, he's built the best in the world, he's built a coaching staff to die for, he's brought in a sporting director who knows what he's doing, and now he's got a manager that fits what they want. Doing this moment in time. Man United is the opposite of that."