Football and Sports News
Nick Kyrgios vs Hubert Hurkacz, news, result, Montreal Masters, latest, updates, US Open, scores
Nick Kyrgios said he had little to give when his nine-match winning streak ended in the quarter-finals of the ATP Montreal Masters on Saturday (AEST).
The Wimbledon runner-up has made it 15 wins in 16 matches since taking to the court with a 7-6 (7/4), 6-7 (5/7), 6-1 win over Polish powerhouse Hubert Hurkacz.
Watch tennis live on Kayo with beIN SPORTS. Live coverage of ATP + WTA tournaments including every final match. New to Kayo? Start your free trial now >
Kyrgios eliminated from Montreal in QF | 01:40
But the Australian was about to give in as his body began to complain.
"My body didn't feel good last week," he said.
A little before the match I was feeling abdominal. My knee hurts."
Kyrgios held his own in the first two sets and kept the momentum going.
The OCC was frustrated when his opponent came out for the court suit, a delay that ate into his poor performance.
During the live broadcast, Kyrgios spoke loudly about the delay of the match.
"We're not machines, bro," Kyrgios said.
We can't go and stop, go and stop, go and stop.
Despite Canberra's relatively cool weather, Hurcak was frustrated to find that he needed to change his clothes.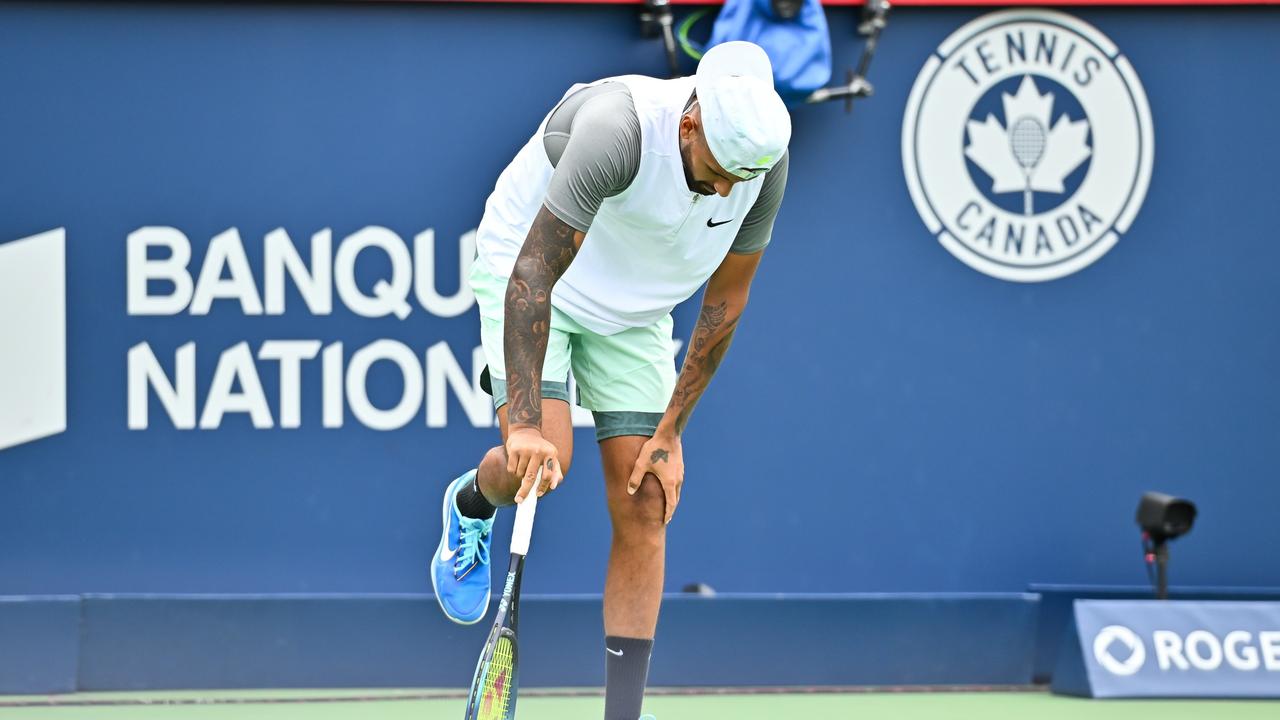 Additional coverage
'Go to the bathroom': Tennis star fined for not using toilet in 'ridiculous' case
'Funny': 'Unplayable' Kyrgios climbs ATP rankings with US Open warning to rivals
'Breath of fresh air': Kyrgios issues stark warning to US after demolishing Canada
"Nobody needs to change f***ing clothes in 15 degree heat," Kyrgios said.
"15 f***ing degree brother."
Speaking after the match, Kyrgios took a more measured approach in his response to Harkacz's mid-match outfit change and the impact the delay had on him.
"When you're really playing and you stop for like five or 10 minutes, it's not good for your body," Kyrgios said.
"After that, my body was so stiff, I couldn't move properly.
"I mean it's within the law. I'm not complaining. I was completely stiff. "
"I'm not a machine," said world No. 37 Kyrgios, who will enter the US Open spot this week. I am human.
Kyrgios won his first ATP title in three years in Washington last week and shared the crown with Jack Sock, the first man in the 53-year history to claim both crowns in the same year.
"My knee hurt, my back hurt… I was trying to move, but I was just too tight," Kyrgios said.
"My body didn't feel good last week."
A demon is no match for King Kyrgyz | 02:16
Kyrgios said he needed a break before returning to Cincinnati next week for his final major event, the US Open, which starts on August 29.
"I feel great, but the US Open is still two and a half weeks away. I have Cincinnati next week. That's all I'm focused on," Kyrgios said.
"I'm focusing on today, tonight, recovery, food, then just rest, then Cincinnati. That's where my mind is.