Someone give this guy an Oscar.
Australian flyhalf Nick White was accused of dishing out "one of the softest yellow cards of the year" in Saturday afternoon's 25-17 win over South Africa at Adelaide Oval.
With the Welshmen leading by seven points in the 39th minute, Springboks half-back Faf de Klerk appeared to slide in White's face as he attempted to intercept a feed from under the mud.
Check out the 2022 Rugby World Cup Sevens. Every game live and on Kayo exclusively for beIN SPORTS. New to Kayo? Start your free trial now >
The 32-year-old fell to the ground in what appeared to be an innocuous brush, prompting referee Paul Williams to show De Klerk a yellow card.
"I know what you're trying to do," Williams said.
"You're trying to get the ball, but you mistimed it and hit someone straight. So we can't have that. I know you're wrong, but it's a yellow card."
The bewildered South African only laughs as he runs off the field.
"I'm not sure we want to go down that slippery slope, but to be fair to Nick White it's a cut across the face and it's illegal," All Blacks legend Andrew Mertens told Stan Sport.
Commentator Shane Maloney continued: "It will undoubtedly go down as one of the softest yellow cards of the year."
World Cup champion Butch James told SuperSport: "It's a disgrace in the game of rugby for a player to behave like that.
Former Springboks captain John Smith tweeted: "(White) killed a bit of rugby today.
"Nick White's Oscar may be celebrated by people who don't like boxing," said South African journalist Brendan Neal. But it's a bad advertisement for the game. This is not football. Theatrics can win you a penalty but they have a bad effect on the game. It's a shame."
White's antics paid off, with Wallabies winger Marika Koroibete scoring Australia's second try of the afternoon less than eight minutes after the break.
And not long after, Brumbies phenom Noah Lolesio set up Fraser McCright's second try of the day with a brilliant clip from behind the crease.
It was undeniably one of the Welshmen's most complete performances, temporarily putting the Australians off the Rugby Championship ladder.
The Colts had five turnovers and two roughing penalties, but there were minor miscues in an otherwise flawless outfield game.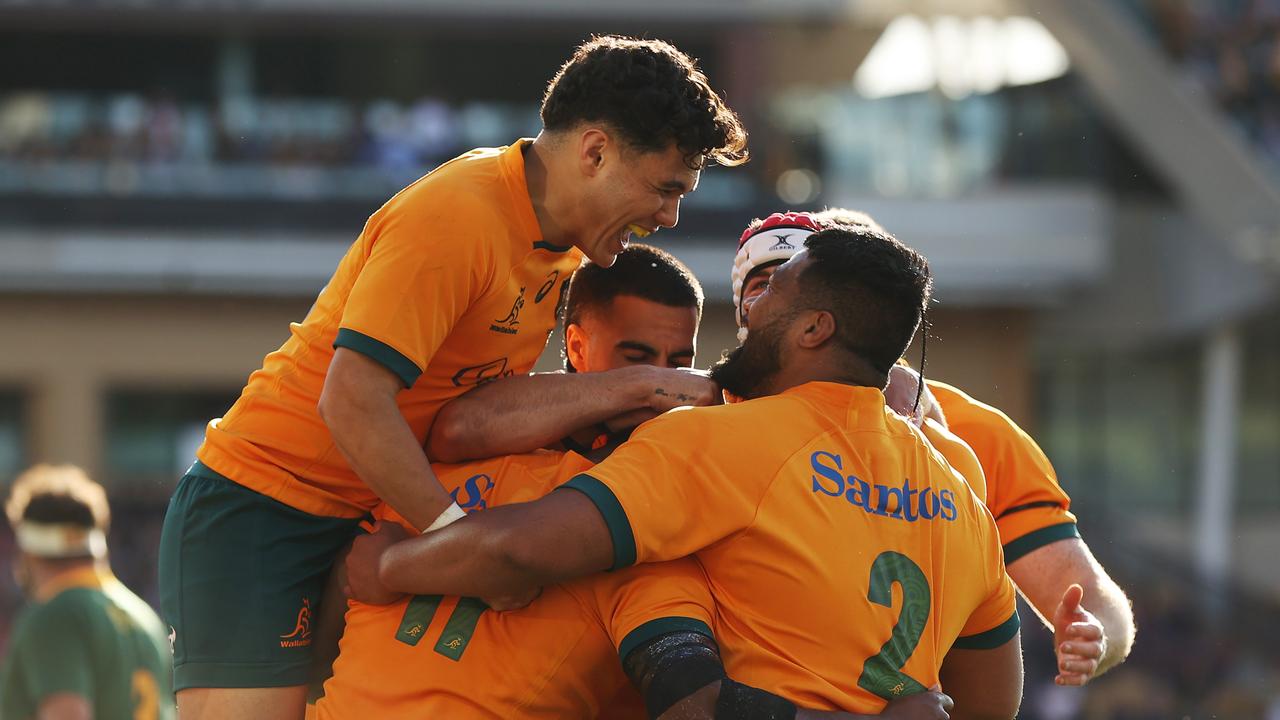 "Test match rugby is built on big moments. And normally the team that wins goes well in those big moments and we had a few at the end of the first half," Australian captain James Slip said after the win.
"This team, I've said it many times, has a lot of character. It's just about performing consistently and that's probably our biggest challenge next week in Sydney to support our efforts.
We are very proud of our efforts today. It was a tough tour in Argentina. The way we ended up there is unfortunate. But to come here in front of the Adelaide crowd, Adelaide Stadium, we're very proud of our effort.
South Africa still haven't beaten the Welshmen in Australia since 2013.